CEREMONIES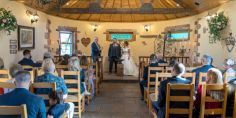 Information on wedding ceremony options at The Mill Forge
ACCOMMODATION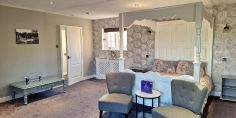 Information on the ensuite accommodation at The Mill Forge
RECEPTIONS
Details about hosting your wedding reception at The Mill Forge
TARIFFS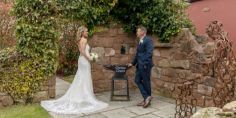 A breakdown of costs for weddings, accommodation and receptions
Wines at The Mill Forge near Gretna Green
Savour a glass of wine at your wedding reception or with your meal in our restaurant.
All the wines have been carefully selected to offer good quality at a reasonable price.
Below you can find information on which wines suit particular meals so that your meal is complemented by the perfect wine.
A range of drinks packages are also available.
---
White Wines
Los Tilos Chardonnay - Chile - £14.95
Very well balanced. Silky smooth with a tremendous volume and a long finish

Veneto La Castelia Pinot Grigio - Italy - £16.95
Lovely fresh, pear fruit on the nose. The palate has minerality, white fruits and a touch of spice

Anapai River Sauvignon Blanc - New Zealand - £16.95
A vibrant citrusy wine with an aroma of fresh gooseberries and packed with tropical fruit flavours
Sparkling Wines
Maschio Dei Cavalieri Prosecco - Italy - £19.50
This pale straw-coloured spumante wine is made from the grapes of selected vines in the Treviso area and features pronounced candied fruit aromas, a fine perlage and a lively mousse
Champagne
Reynier Champagne Brut nv - France - £38.00
Fresh delicate and racy with a rich dry palate and long lasting bubbles
Moet & Chandon Brut nv - France - £46.00
Dry with a lovely crisp acidity to savour, ideal to share for that special occasion
Red & Rosť Wines
Los Tilos Merlot - Chile - £15.95
A distinct fruity aroma recalling red cherry intermingled with floral and vanilla notes

Moondarra Shiraz - Australia - £16.95
A rich, spicy mouthful of ripe plums and bramble fruits - soft, rich and warm in style and finish

Zarapito Malbec - Argentina - £16.95
A soft, fruity red with flavours of cherries and red fruits. Soft on the palate with a lovely, rounded finish

Hunters Cove Zinfandel Blush - USA - £15.95
A delightfully fruity, medium bodied and refreshing wine with an easy drinking style

Cuvee Del Centario Rosata - Italy - £15.95
The nose is faintly sweet with a touch of flower and peach. Easy drinking rounded style, ideal for something less sweet than a zinfandel rosť